I've stripped out the rest of the carpet today, and bagged it up and hidden it in the boot of the Escort (shameful to have a blue oval, I know, but was cheap) so I did a little more hunting for bad rust. Today was mostly a cleaning session, and testing some parts, the starter motor and "new" electric water pump. Anyway, the rusty bits:
driver's side rear footwell:
passenger side rear footwell:
water pump pic nicked from google as I haven't taken one yet (eejit):
and what it
should
look like when I fit it (longer bolts needed now):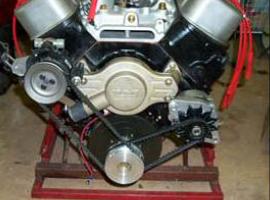 Tried the starter motor a couple months ago, while it was on the block, but it didn't work. So today I took it off and had a play, thinking that there might have been a wiring issue. Turned out it was an operator issue, didn't energize the solenoid last time
spins over lovely
That's all I've really done today, apart from going surfing as the snow melted on Dartmoor as some of you may have seen on facebook today lol, and chatting to several people who were walking past my garage with the usual "I/my dad/ grandad had one of, oh wait, there's something different, it doesn't say Vauxhall *head scratch*..."
Did go to look at a bigger garage during the week, bit closer to home, 5 minute walk instead of 10. Just need to hear back from the people renting it now, as they may not want me grinding and welding in there. Fingers crossed.